Well, at long last bought one.
Will update later after the 8 hour first charging of the battery ...
Okay. First impressions. The tablet is VERY light and very easy to hold. IMHO, much more than the Acer Iconia Tab and Apple's IPad. First setup took less than five minutes, another two or three minutes for the Asus MeMo Pad to download some updates for itself and presto, ready to go.
After one day of tinkering with it I am a little disapointed that the battery ran out after only five or six hours of interupted work, but will check this again.
And, the tablet does not seem to come with a built it Word edtor, witch means I will have to search for one and download it.
Asus Memo Pad ME 301T
Had a few more days of work with it. Though I haven't tried really putting some difficult tasks for the tablet, everything I did worked fast and smoothly. Browsing is a fast and furious, and even dowloading heavy news sites takes a few seconds at best.
My wife also uses the tablet and has also found it to be very friendly and accomodating. It hadn't crashed or gotten stuck once and so far, so good.
Still have to go get a bluetooth keyboard for it to turn it into a real word editor tool and will update about how that goes. Of course, will also install some heavy duty games and will report here.
For now, Go Asus!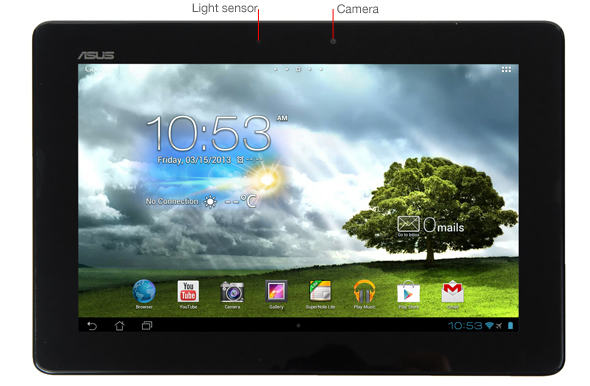 Asus Memo Smart Pad 10 Home Screen